Letter from Mrs. A. Hampton, "3 miles from New York"
Here is a contemporary account of events and conditions in New York City during those tense days immediately following the arrival of the British fleet.
Mrs. A. Hampton writes to her daughter Polly in New Winsor, "you cannot be suficintly thankful that you are out of this deplorable City, where every thing that once was delightful now only serves to make one wretched."
She reports that she had returned to New York from Haverstraw about four hours before the British ships went up the river. "I never underwent such a fright in all my life. Cannons roring, drums beating to arms, all things in confusion, my mother out of town, not a friend to go to. Poor Nancy and I, we had no other refuge but to run for our lives and indeed we was in great Danger but I was insensable of it for the Bullets flew thick over our heads as we went up the Bowrey. But thank god we escaped."
The action described above took place on the afternoon of July 12 when two British ships, the forty-gun Phoenix and the twenty-gun Rose, with the accompanying schooner Tryal and two tenders, left their anchorage in the harbor and proceeded up the Hudson to a safe moorage in the Tappan Zee. American batteries on both shores opened fire on the passing ships. The British responded, and it was this answering fire that Mrs. Hampton probably feared.
Mrs. Hampton's letter was written "3 miles from New York," which was in the neighborhood of today's 34th Street.
view this document in the archives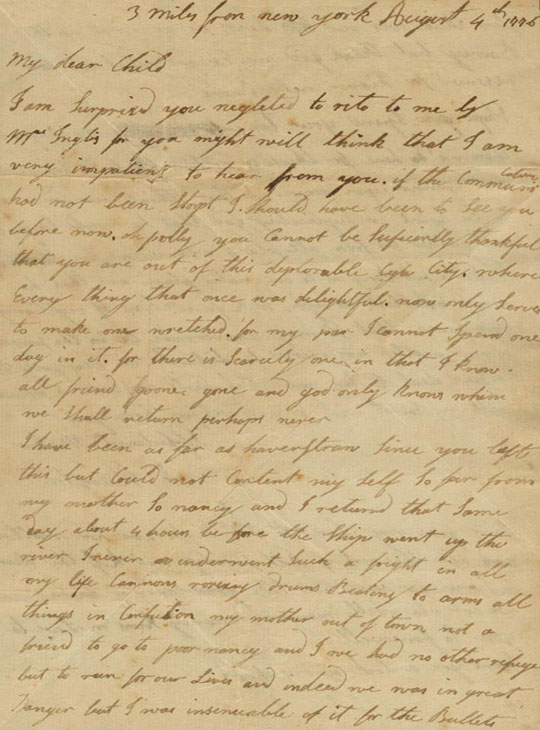 Hampton, Mrs. A., ALS (3 miles from New York, August 4, 1776), 3 pages.