The American Revolution: An Everyday Life Perspective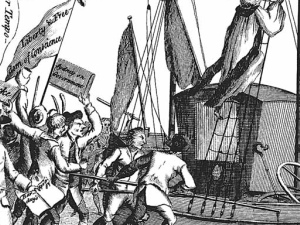 The American Revolution is a cornerstone of U.S. History that receives ample analysis by historians, teachers, and students. Oftentimes, analyses focus on the battles that were fought, the generals that became heroes, and the political ideologies that swept through the minds of individuals such as Jefferson or Washington.
In this website, we urge teachers and students to examine another part of the American Revolution: the everyday life activities that occurred during this era. By analyzing different aspects of religion, health & medicine, education, music, and work, both teachers and students can understand the American Revolution better. What was everyday life like during the American Revolution? How did the American Revolution affect schools, churches, middle-class workers, or doctors? Has the American Revolution created any everlasting traditions in the everyday life of Americans? These are questions to keep in mind as we examine The American Revolution: The Everyday Life Perspective. Click on the links below to find detailed resources and activities on subcategories of everyday life that can be used in the classroom.
There are five learning modules. Each learning modules contains printable activities based on primary sources or graphical organizers. Each learning module opens in a new window.
Learning Modules